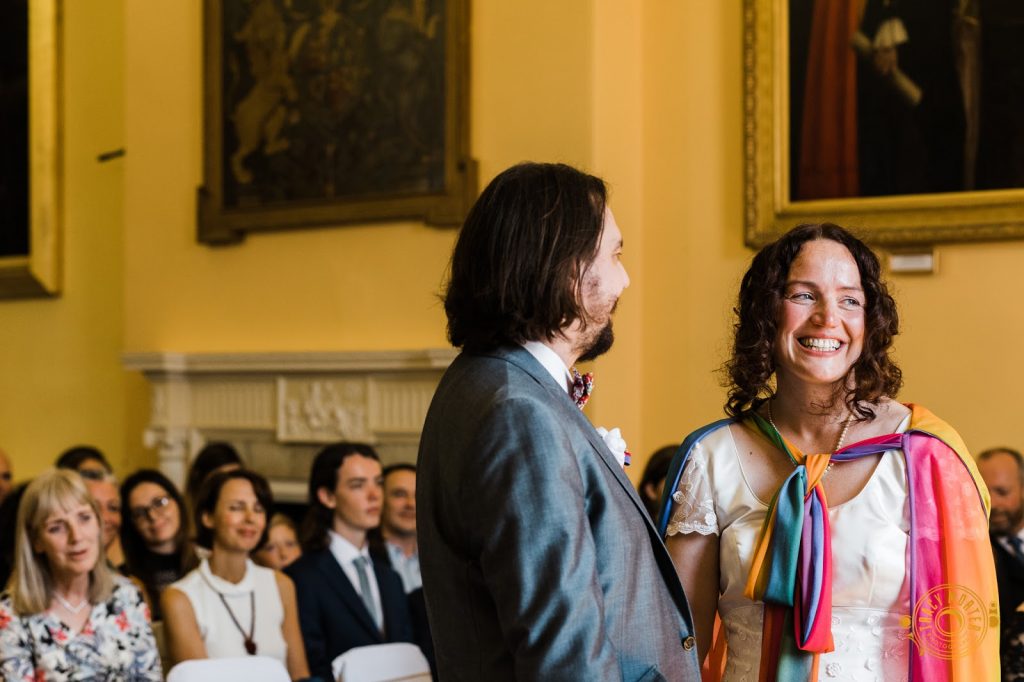 Photo by (the utterly fabulous) Tracy Morter www.tracymorter.com  
One of the obvious areas to save money for the wedding was on hair and makeup.  I decided to do my own, which was hugely daunting as I have two daily hairstyles: down, or loose bun (or 'flower', as my youngest calls it).  I also have two fancy hairstyles: I can straighten my hair, or I can rag curl it.  
For the wedding, rag curls seemed most bridal and most unlike the everyday.  
I have a set of Remington Hair Envy Heated Rag Rollers, which plug in in their case and are very easy to use.  If you wanted to use zero electricity and chemicals, you could easily do this style using the more traditional method of tearing rags and applying them to damp hair.  
Rag rolling creates lovely ringlets in even the most stubborn, fine, straight hair, which you can separate with fingers to make into loose curls.  
I watched a few YouTube tutorials to help me perfect my method and found this blog helpful http://offbeatbride.com/rag-curls/
My hair is fine but plentiful, straight on top with a slight wave / kink. I am of mixed white British and Irish heritage.  When I began practising, I had a long bob, which was slightly longer at the front, much like Mandy Moore in this Pinterest picture (yeah, honest…)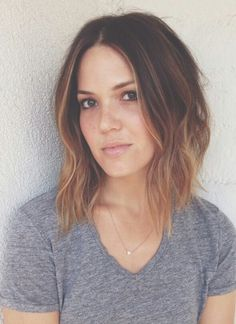 The bob responded pretty easily to rag curls, as in this first attempt, the summer before (planning is everything…).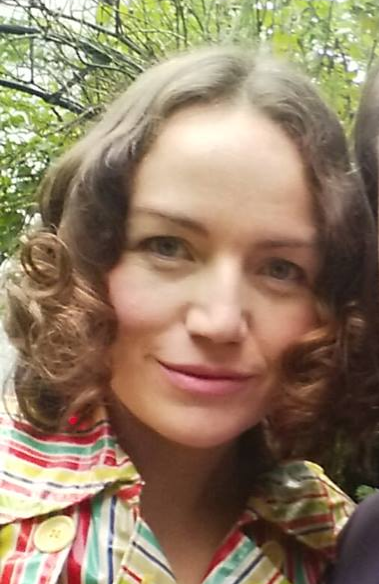 However, as I couldn't imagine getting married without my old, long hair, I had grown it quite long by the wedding.  The back just didn't work down by this stage – it was too haphazard and not curly enough, and was best roughly pinned up with the nicely-curled front down and loose, a la Lizzie Bennett in 1990s Pride and Prejudice.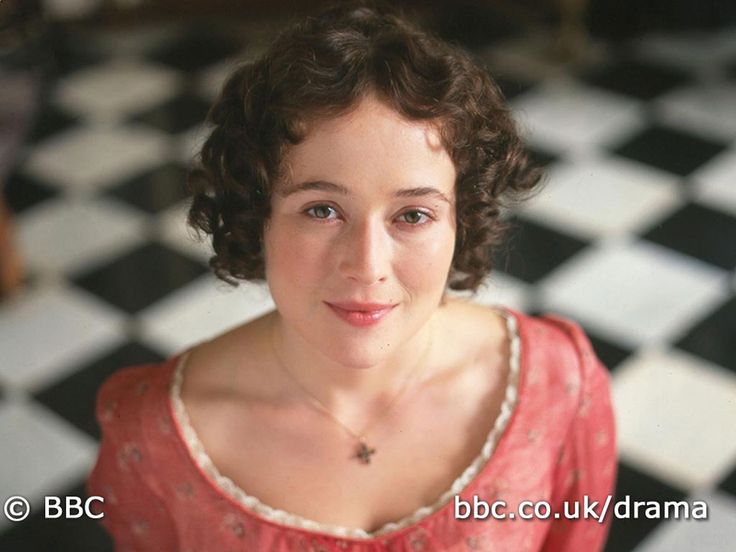 Lizzie Bennet
I put my hair into rollers first thing on Friday, before we left London to head out to Kent to our Saturday wedding's venue.  To keep the rolls from falling out and / or bashing me in the forehead, I wrapped them in this Liberty silk scarf.  My about-to-be Mother in Law tidied up the back into the scarf for me when we got there, which I really appreciated, as the back kept unrolling.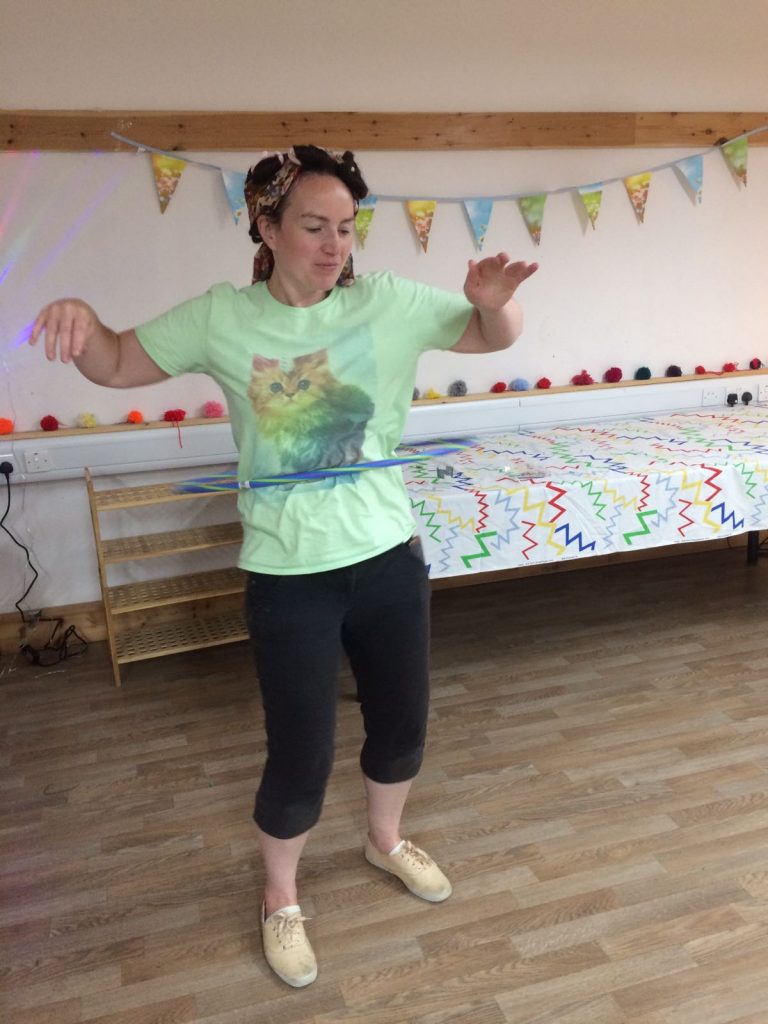 Day Before Hair
On the wedding day, I got extremely nervous about taking out the rolls, so one of my lovely bridesmaids came into the bathroom with me as moral support.  Once unrolled, it was fine and dandy. I swept back my hair into the shape I wanted, and my lovely friend helped me pin it up.  Honestly, if we could put this together in a tiny mirror in a dormitory bathroom with a puddle of wasps on the floor, you can DIY your hair, gorgeous ones!  Just before we left, my wonderful sister fixed in my rainbow mermaid comb, made for me by the massively talented Irish designer Alice Halliday from sea pottery and shells (http://www.alicehalliday.com/ ).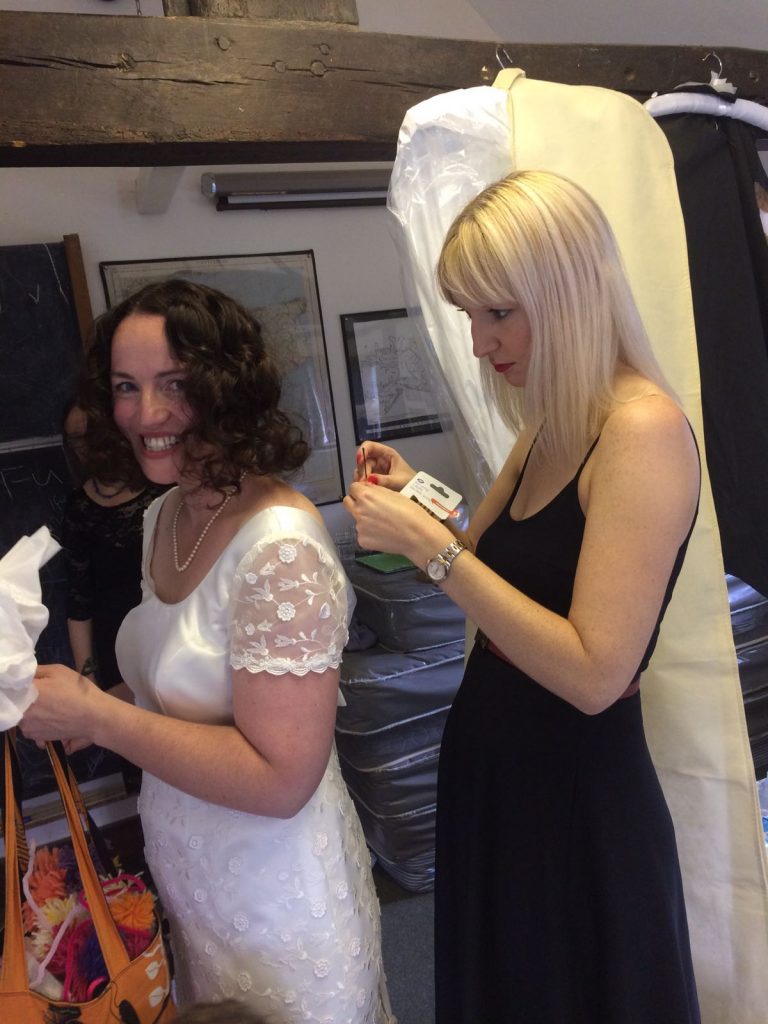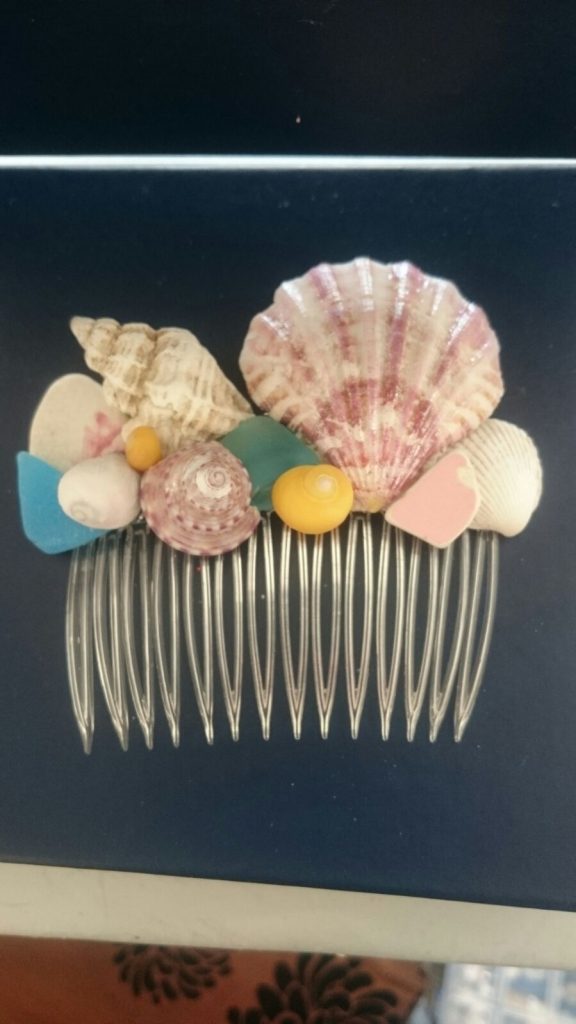 Alice Halliday comb – this is bespoke, but others are available on Alice's Etsy shop https://www.etsy.com/uk/shop/AliceHalliday 
I avoided using hair spray as no matter what I did during practice runs, my very fine hair ended up heavy and crispy with it.  I had put a curl activator through it on Friday morning.  The key is to roll up your hair when it's damp, and to trust it to dry out overnight.  The curls really stick for hours, and fall out elegantly enough. Here they are at nearly midnight…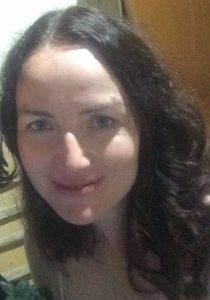 Back to the day of the wedding… After the ceremony, back at the reception venue, I needed to fix my hair and completely lost the ability.  We were still waiting for the second mini-coach to bring guests, so I had a few minutes to fix it.  One of my oldest friends happened to bump into me as I came out of the bathroom having given up.  She sat me down in the breakfast room and the two of us caught up as she gave me a new hairstyle in five minutes flat – something she had last done in 2002 when we were students.  Complete with rainbow mermaid comb, it was magical.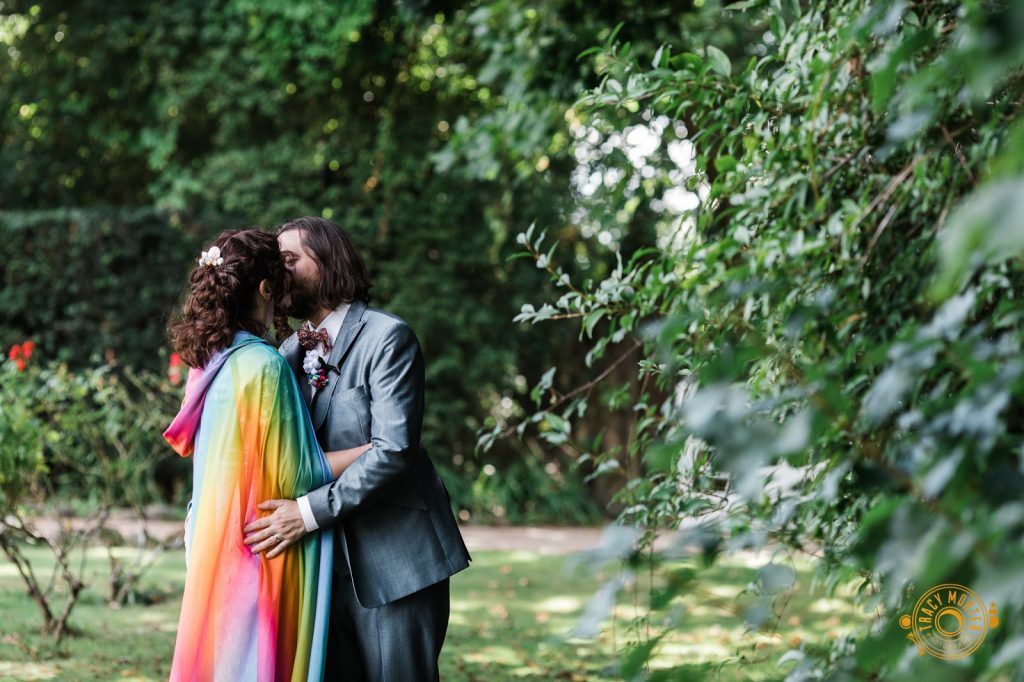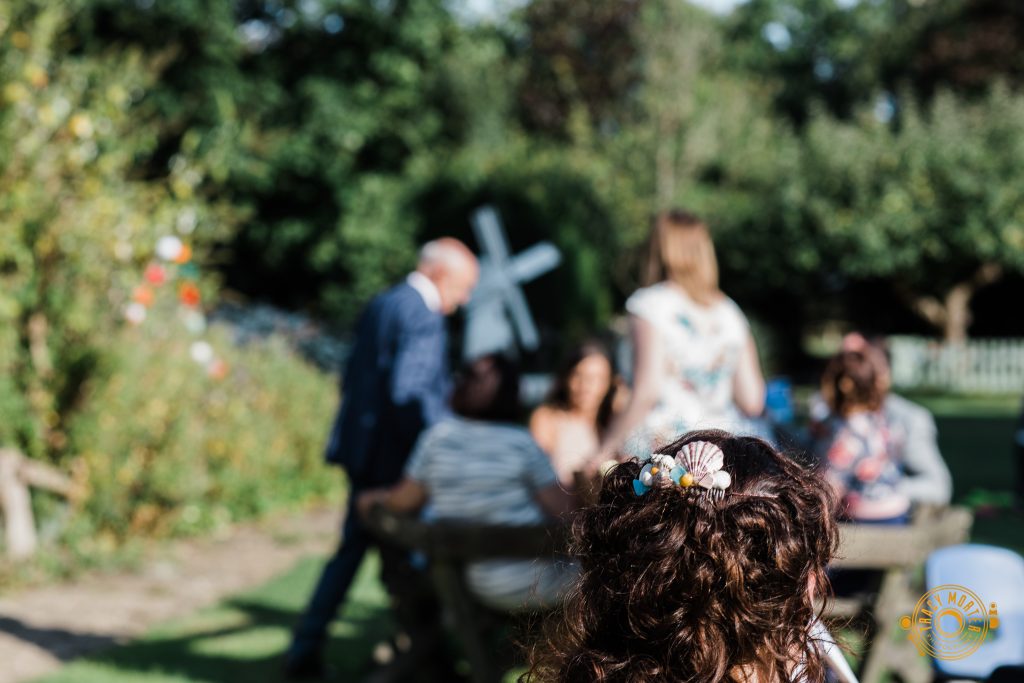 Photos by Tracy Morter www.tracymorter.com
It was important to me to get my hair right for the wedding, and I am very happy with how it turned out.  My hair and I have history.  I grew up with bum length hair, and chopped it all off not long after my mum died, while I was caring for my newborn, first child.  I wrote about that here http://saranesbitt.co.uk/2013/03/14/cutting-my-own-hair-short-an-act-of-grief-identity-or-silliness/