This week's post is a bit niche: relatively-budget underwear / shapewear for a bias cut, thin, slip (aka cami) dress.  I hope it coincides neatly with any last-minute, NYE pants panic.  I appreciate that if your dress is quite see-through, this post is likely to only be helpful for someone with my skintone.  However, if you're looking for pants for a dress with a thicker fabric, this post should be more broadly useful. 
If you've just got engaged and are here for tips on saving money, easy crafts, sustainable ideas and ways of personalising your wedding, firstly, congratulations! Secondly, I hope some of my earlier posts on finding outfits, making your own flowers and bouquets, venue decorations and table decorations are useful to you. More to come in 2018 for the uncrafty bride on a budget.  
But for now. The Underwear.  Once I had found The Dress, I became obsessed with The Underwear.  It was so hard to find, and there was so little online to point me in the right direction, so I do hope this is useful.  It is the result of my frugal and exhaustive search.  
Ghost slip dresses are extremely lightweight, and cut on the cross, which is what makes them beautiful.  It is also what makes them virtually impossible to wear pants under, because EVERYTHING shows through.  Moreover, mine had a spaghetti strap on one side (requiring a strapless bra), a very deep scoop (making any bra difficult, especially a typically full-cupped strapless bra), and a thigh-high split on one leg (making shorts difficult).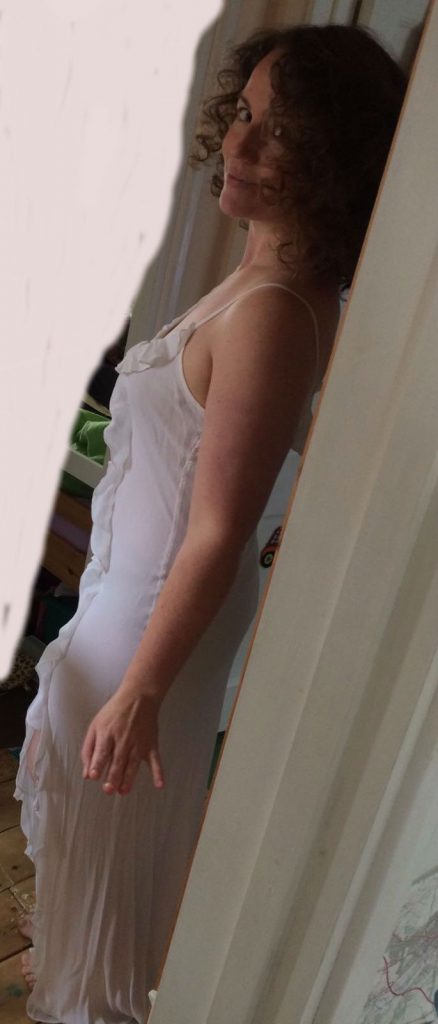 A quick reminder of the gorgeous, flimsy Ghost dress I thought was going to be my wedding dress
Advice I had been able to glean online suggested tiny, seamless hipsters – however, as I have had four major abdominal operations in the last six years, including c sections, I wanted to wear something that held my tummy.  I am self-conscious about my mother's apron, aka The Flap.  I was very wary about becoming negative and shameful about my body during what is supposed to be a celebration of love and life, but also wanted to feel, well, held, and comfortable.  
Here is the Ghost dress with the invisible, seam free, belly-button-high shorts I already owned.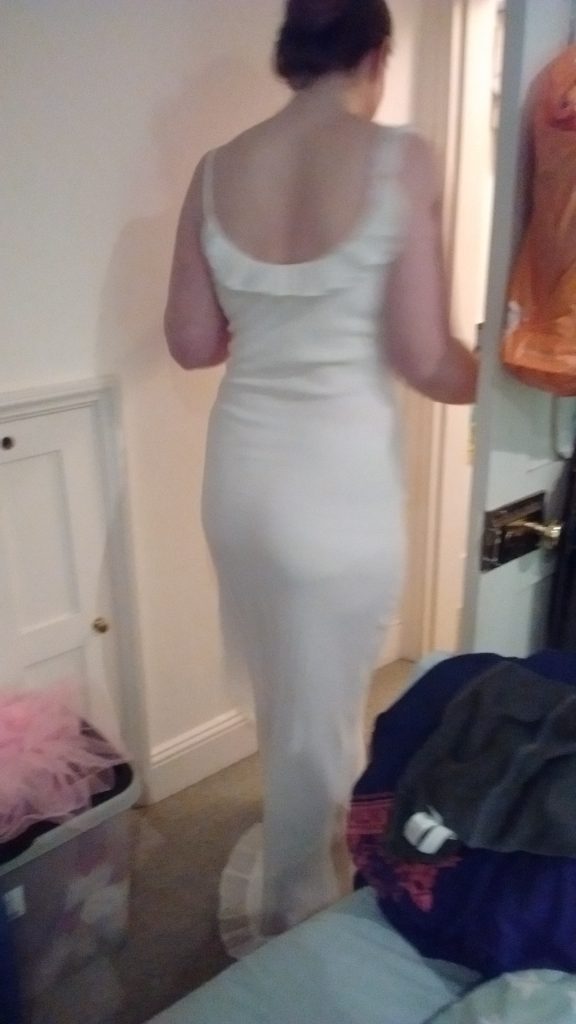 HERE ARE MY BIG PANTS!
They were not invisible.
So I saved up Clubcard Vouchers till I had enough for £50 worth of underwear from Figleaves, and bought a plunging strapless Wonderbra and a pair of Spanx Undie-tectable lace shorts (both in my skin tone).  
The Wonderbra was a stroke of luck – it provided support for my ample-enough bosom and wasn't visible.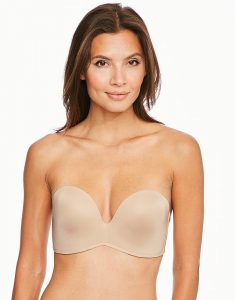 The Spanx pants sounded great, as they were not the kind of upholstered, high-waisted, long-legged, need-assistance-to-pee, no-feasting-allowed Spanx, just a pair of big pants with some light smoothing action.  Unfortunately, the band of shame at the top of the Spanx pants showed through the dress.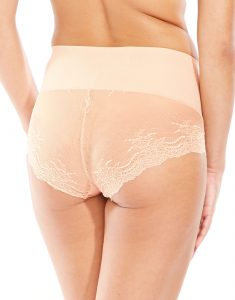 The Pants
The mesh of the lace worked, so I did some searches for seamless, high waist, mesh shorts.  For months.  Couldn't find a pair.  Looked at a lot of pictures of knickers.
Found out about something called a C String.  With wire as a gusset.  Ran away.
AVERT YOUR EYES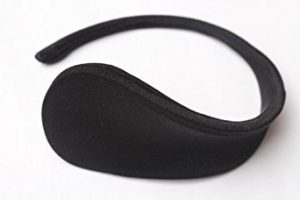 Anything which changed texture was out, as different textures showed through the dress, so most high waisted shorts were out, too, as they all seemed to have inbuilt control panels (which I really didn't want anyway, as I find them constrictive, and I wanted to eat and drink and be jolly).  
Finally, quite close to the wedding, I discovered H&M's light control shorts.  They came to mid-upper thigh at the bottom, and up above my tummy button at the top, they were blissfully comfortable, and didn't ride. They were relatively inexpensive, at £17.99 for two pairs.  As I have very pale, caucasian skin, I was lucky that they were a good match for me.  They come in a pack with a very pale pink and a black pair, and are also great for wearing under summer dresses, for anyone who, like me, gets a bit of chub rub.  Ta da!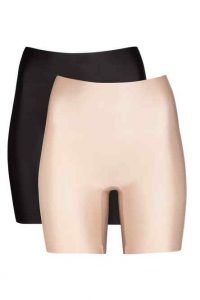 My Trousseau
If I was to do this again and had more of a budget, I would talk to the woman behind www.hotknickers.ie – I think Ali would be able to figure out a good solution.  Choosing a local producer would, of course, also be a more ethical, sustainable option.
This is an area it seems easy to get priced out of if you're looking for ethical options, however, if you are far craftier than me and would like to have a go at making your own pants, here is a link to a tutorial.
If anyone has found solutions to a similar issue, please do comment – especially if you know of any brands that sell various tones and / or of more environmentally-friendly options.  
Happy New Year!