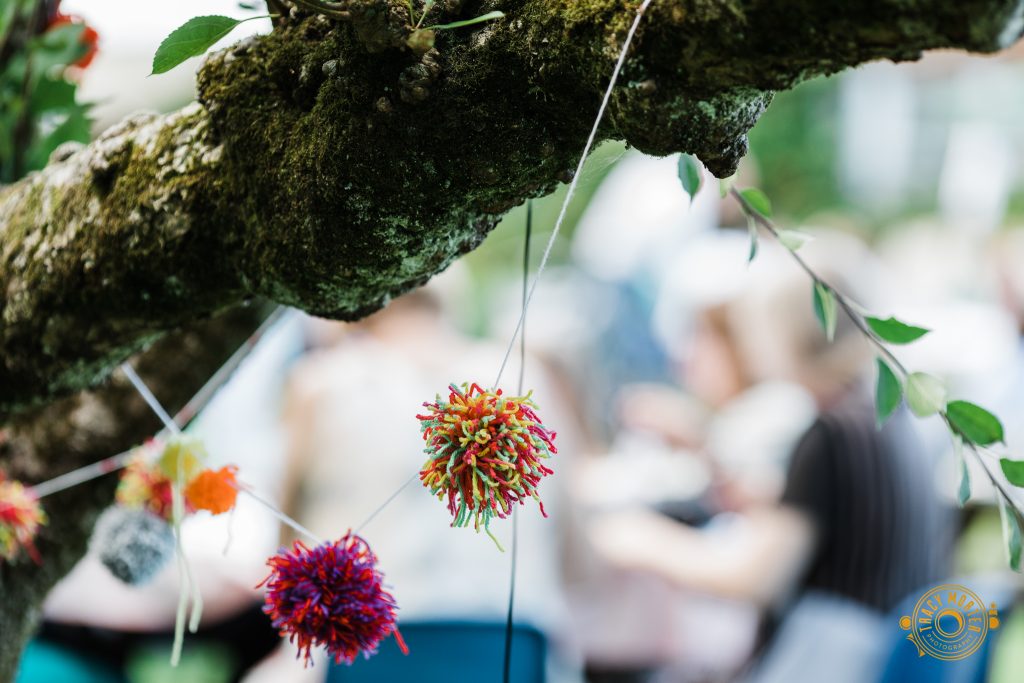 Decorating our venue turned out to be an extended process of joy, community, friendship, love, interaction – all  the good things about any wedding, and, especially, a DIY one.
We made a lot of decorations so I will do several blog posts on different parts of the venue and / or specific decorations, so hopefully other enthusiastic wedding makers can find the bits they need more easily.  
This week focuses on the grounds / gardens of our venue. There is a How To / Tutorial on pom pom garlands, as well as tips on decorating trees, bunting and confetti.  There are, of course, a few stories in here, too.
Overall, our decorations were as sustainable as possible and, largely, either homemade or borrowed.  They were also inexpensive!
Decorating the Gardens for a Wedding
Pom Pom Garlands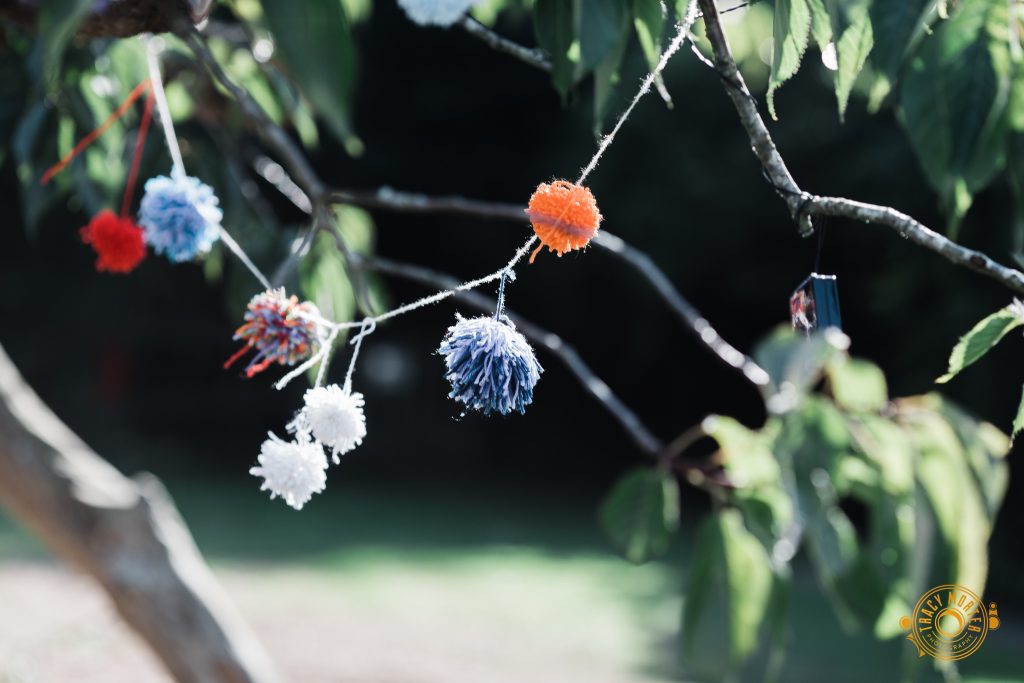 Garlands in Trees. Photo by Tracy Morter www.tracymorter.com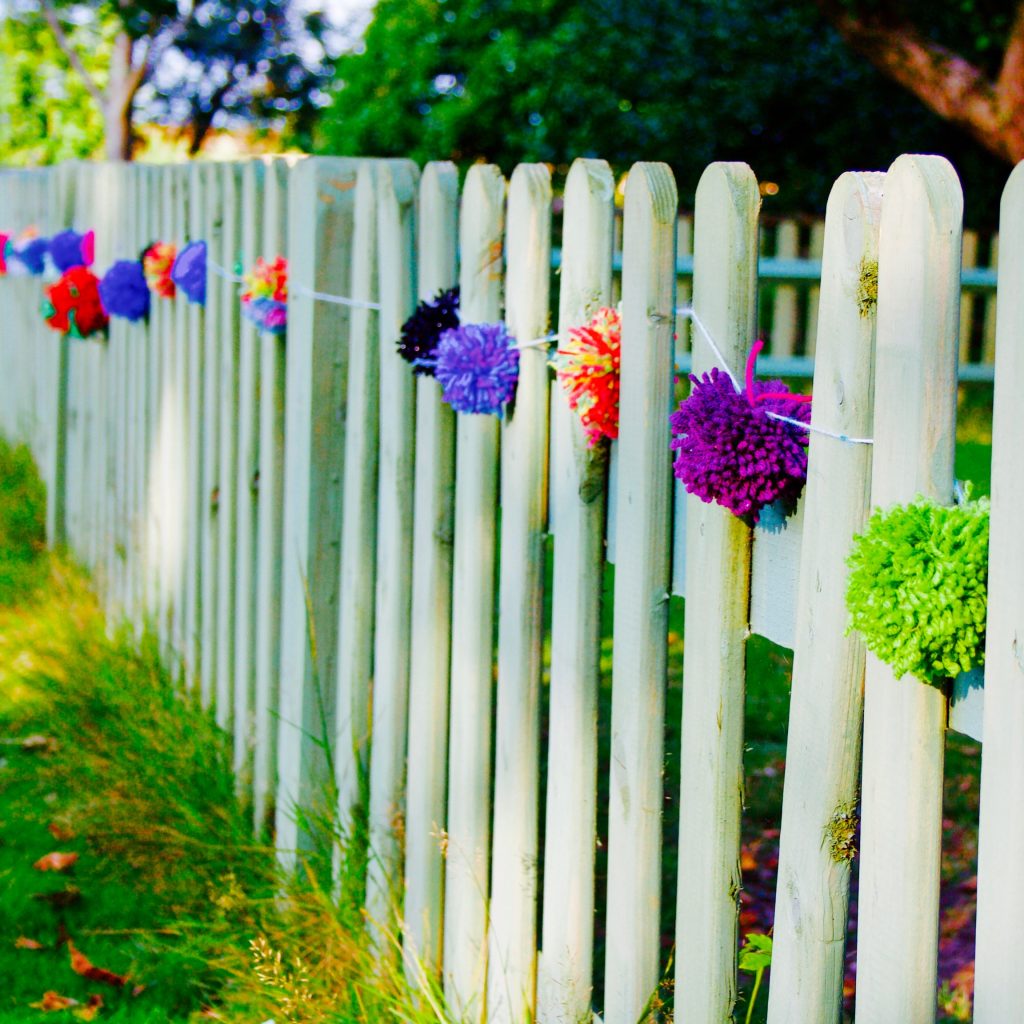 Garlands on the Fence. Photo by Natalie S. 
Have you ever made a pom pom out of wool? It's so easy, the only equipment you need is wool and scissors.  I got a huge bag of leftover wool on ebay for £10, and am still using it to make Christmas decorations and kids' crafts.
Make this shape with the hand you don't use to write: 

Wrap a length of wool around the four fingers, approximately 50 – 100 times (depending on how fluffy and full you want your pom poms to be).

When you have done this, carefully slide the wool off your fingers.

Tie a piece of wool of about 15cm around the middle, so that you are looking at two loops of wool (rather like the infinity symbol).

Cut the loops at each end.

Fluff your pom pom.
(If you would like some step-by-step photos, please do mention in the comments and I will add some!)
We made a lot of pom poms at my hen do — one of the hens even brought her own pom pom maker.  The gorgeous setting of my childhood's Holland Park, prosecco, wine and a delicious bring and share picnic helped to fuel our furious pom pom making.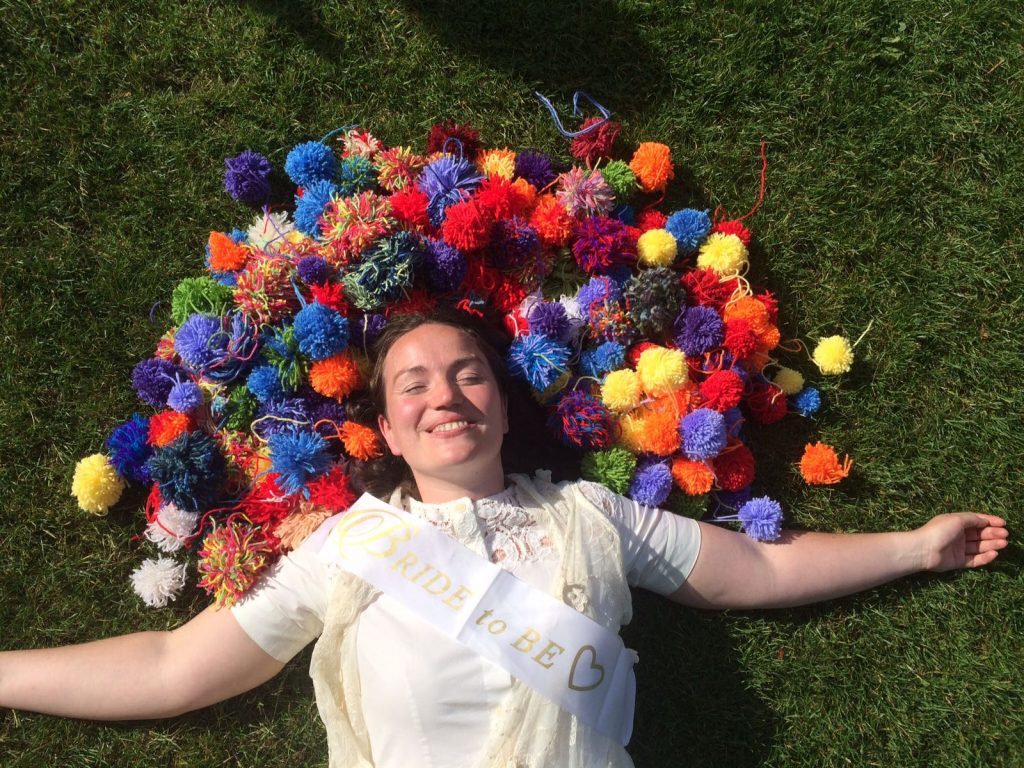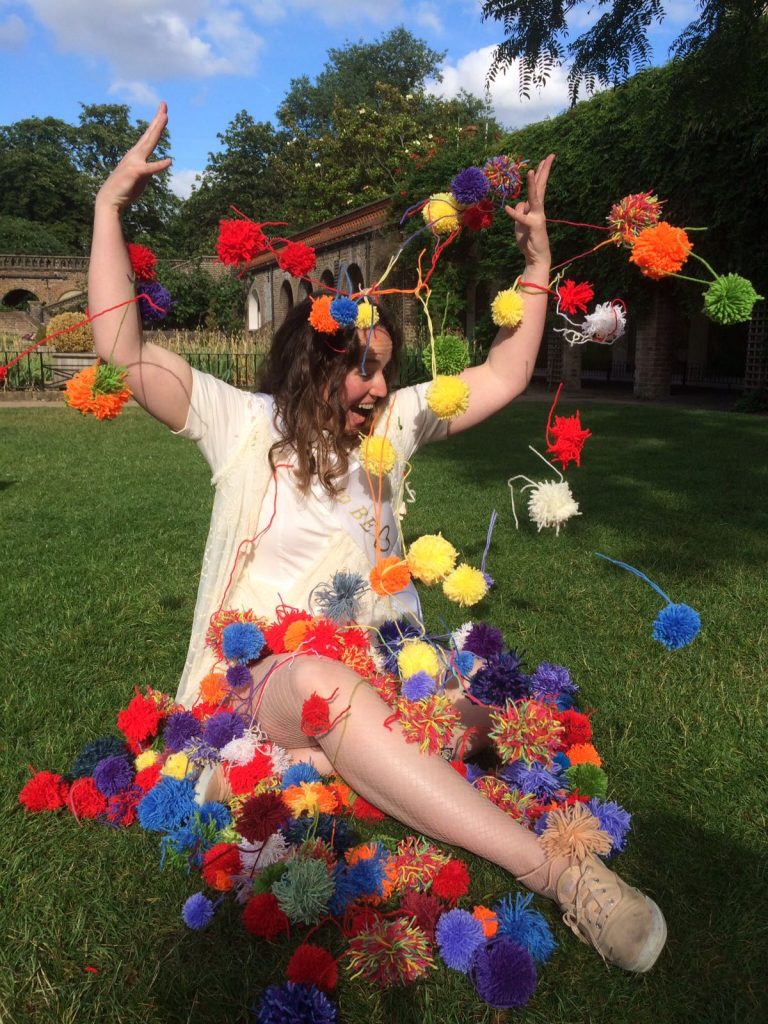 Crafty Hen Do. White playsuit, lace scarf with armholes and nude Keds, all second hand. 
On the day before the wedding, the sun warm on our backs, some friends who had travelled across Europe, friends who had part-cycled from Brighton, my children, their friends and other loved ones, and my (now)husband and I all tried out different ways to fill the trees in the grounds of Kench Hill with pom poms.  The most beautiful method to watch was a friend I had been reunited with after fifteen years (my heart is so full remembering her there, as if we'd seen each other only yesterday, and then, only yesterday) make a huge, woollen web between picnic tables, with the theory this would be the most effective way to make a string of hundreds of pom poms.  It looked beautiful, and certainly made the longest garland of pom poms I think any of us will ever witness — but it was hilariously difficult to transport once made!
The most efficient method was to tie long strings of wool up in the trees and fences we wanted the garlands on, and then to tie the pom poms to them in situ.  Trust us, we tried everything.  
Pom pom garland cost: £10 (large bag of wool from ebay), plus generosity of woolly hens.
Silk Bunting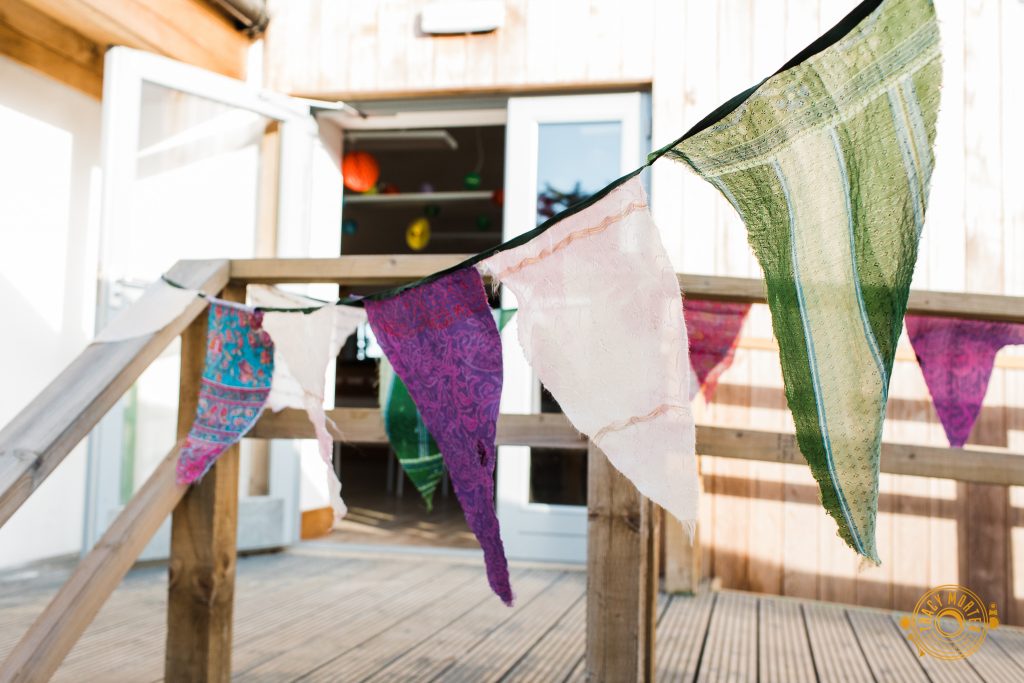 One of my bridesmaids lent us metres and metres of silk bunting that her mum had made for her own wedding.  The bunting had graced several weddings in between – it was beautiful in its own right, and it was also beautiful to have this link with other loving celebrations.
We strung it in the places that needed quiet transformations: a wall with washed-off children's drawing from a recent school visit; the ramp up to the music / poetry / speeches hall; a dark stretch between two gorgeous trees.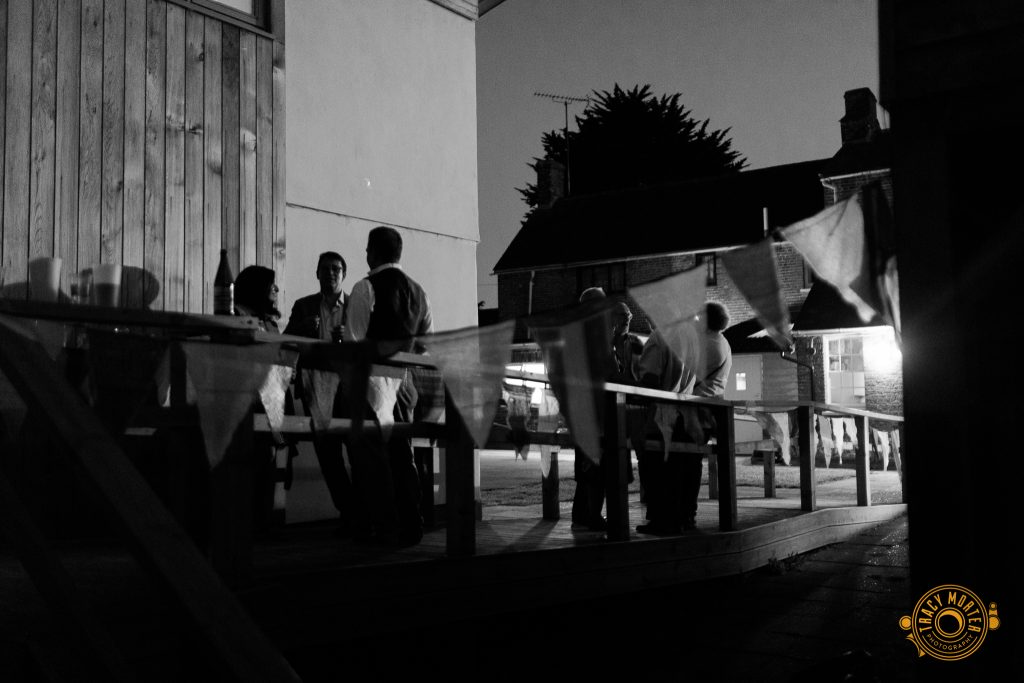 Photos by Tracy Morter www.tracymorter.com
Confetti
There was a meteor shower the night of our wedding.  That was pretty good confetti.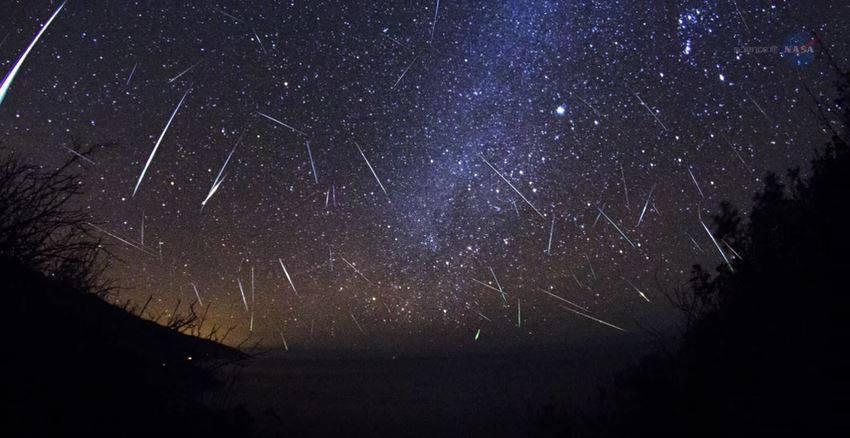 Image by Scarborough and Ryedale Astronomical Society.