Everyone matters.
About twenty-five of our hundred or so wedding guests were young people or children, their ages ranging from very newborn to virtually old enough to vote.  This included our own children, who are very little.  Here are some of the things we did that helped the under 18s to feel welcome and special and to have some fun.
1. Chose a child friendly venue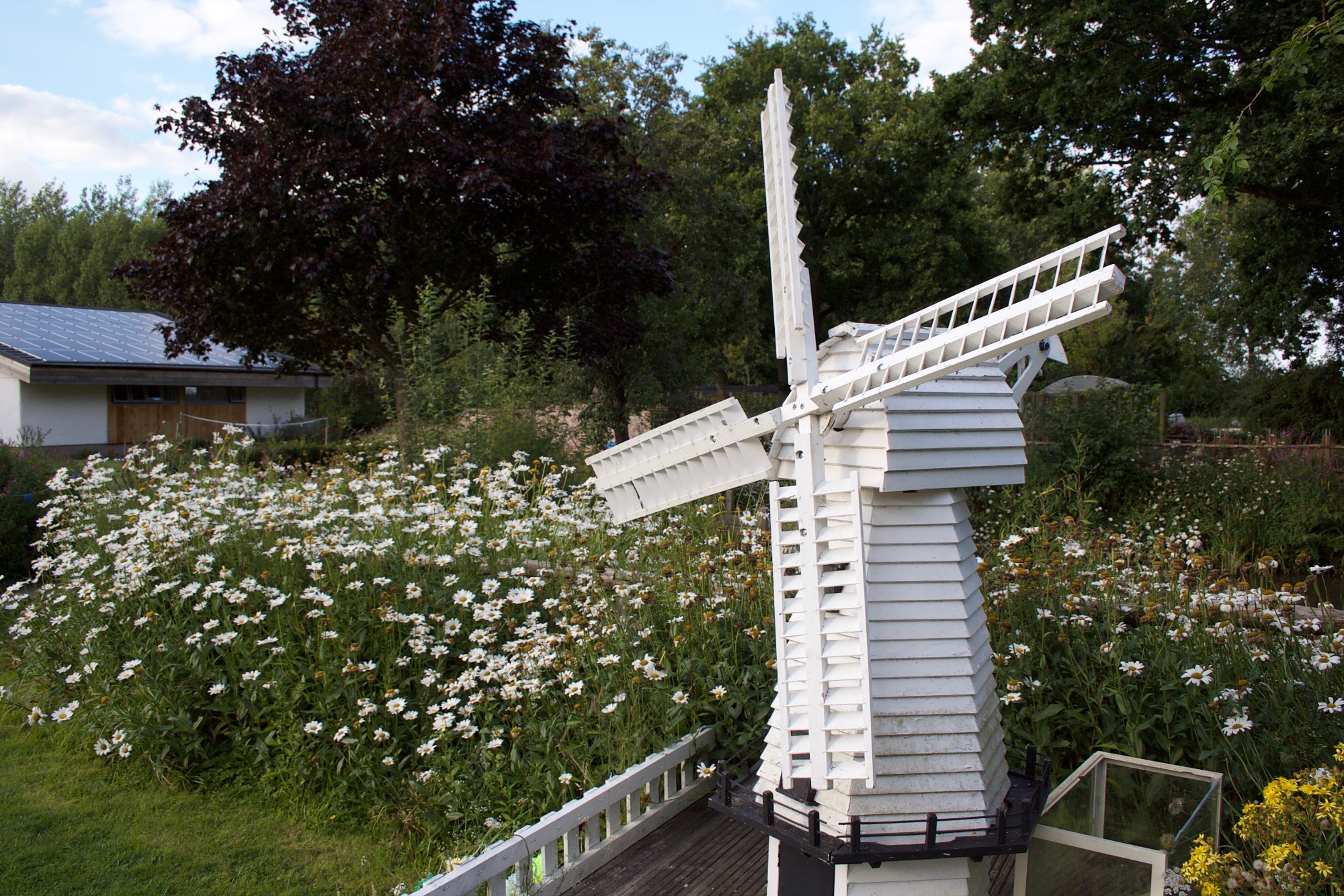 As our venue, Kench Hill, is usually an activity centre for young people to explore nature from, we could relax about the setting being generally safe, secure and well set-up to meet the needs and interests of a range of ages.  In addition to the charming duck pond and kitchen gardens, there was play and activity equipment for all ages:
There was an enclosed garden for toddlers and young children, with trampette, mini-slide, wendy house, mini-seesaw and other small play equipment;
Slightly older children had fun on the tyre swings and with the giant Connect 4;
A large shed containing a games room with babyfoot and snooker, which backed onto a small basketball court, appealed to the 10-14 year olds;
The football pitch and assault course gave older kids a chance to get physical.
Indoors, there was a cupboard full of toddler-friendly toys, board games, books and a piano.
2. Include decorations that can be played with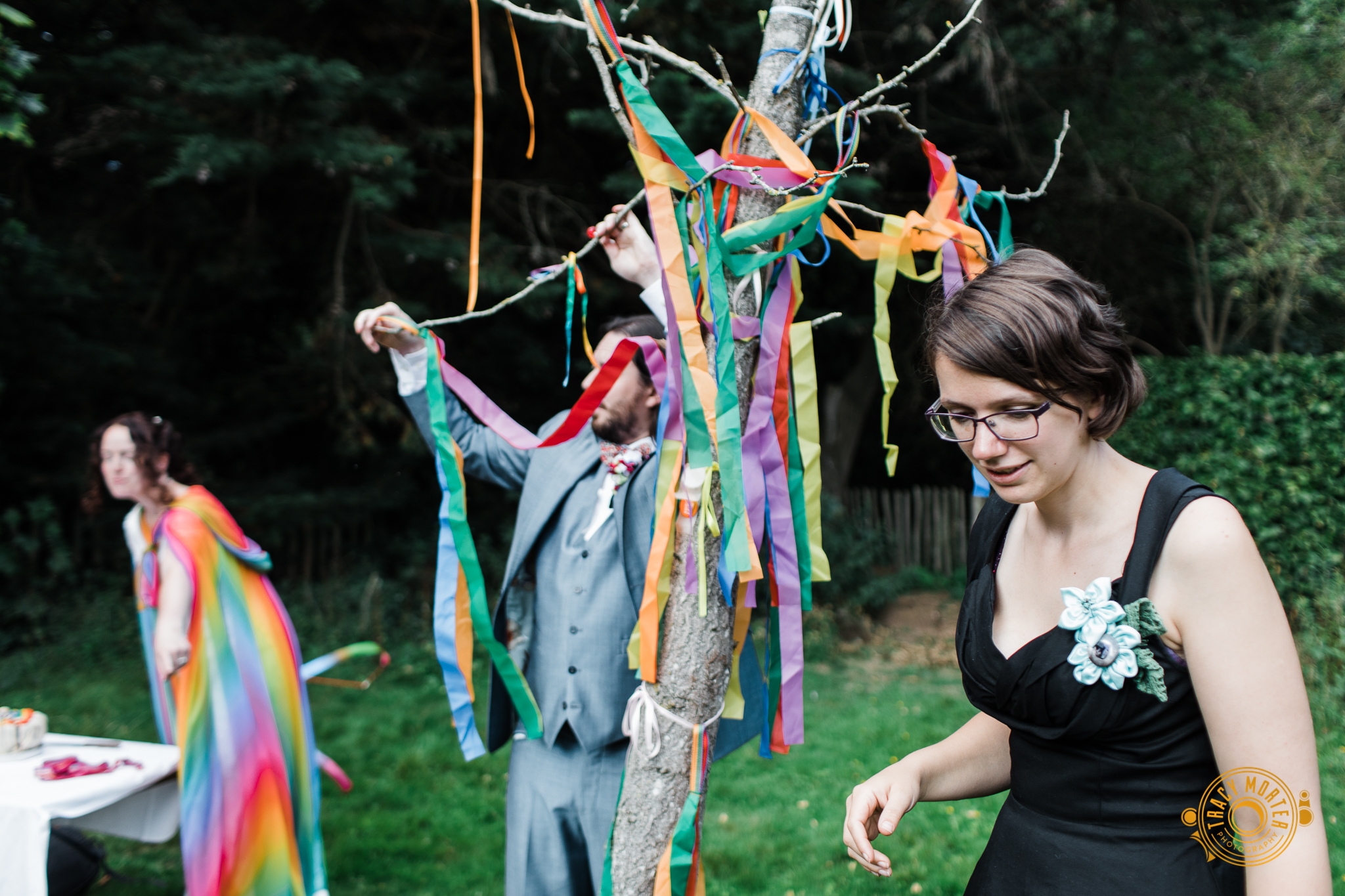 Photo by Tracy Morter
We draped the tree we had our handfasting under with rainbow streamers and planted rainbow windmill toys at its base.  After the handfasting, children plucked off the ribbons and picked the little windmills, and played with them in the sunshine.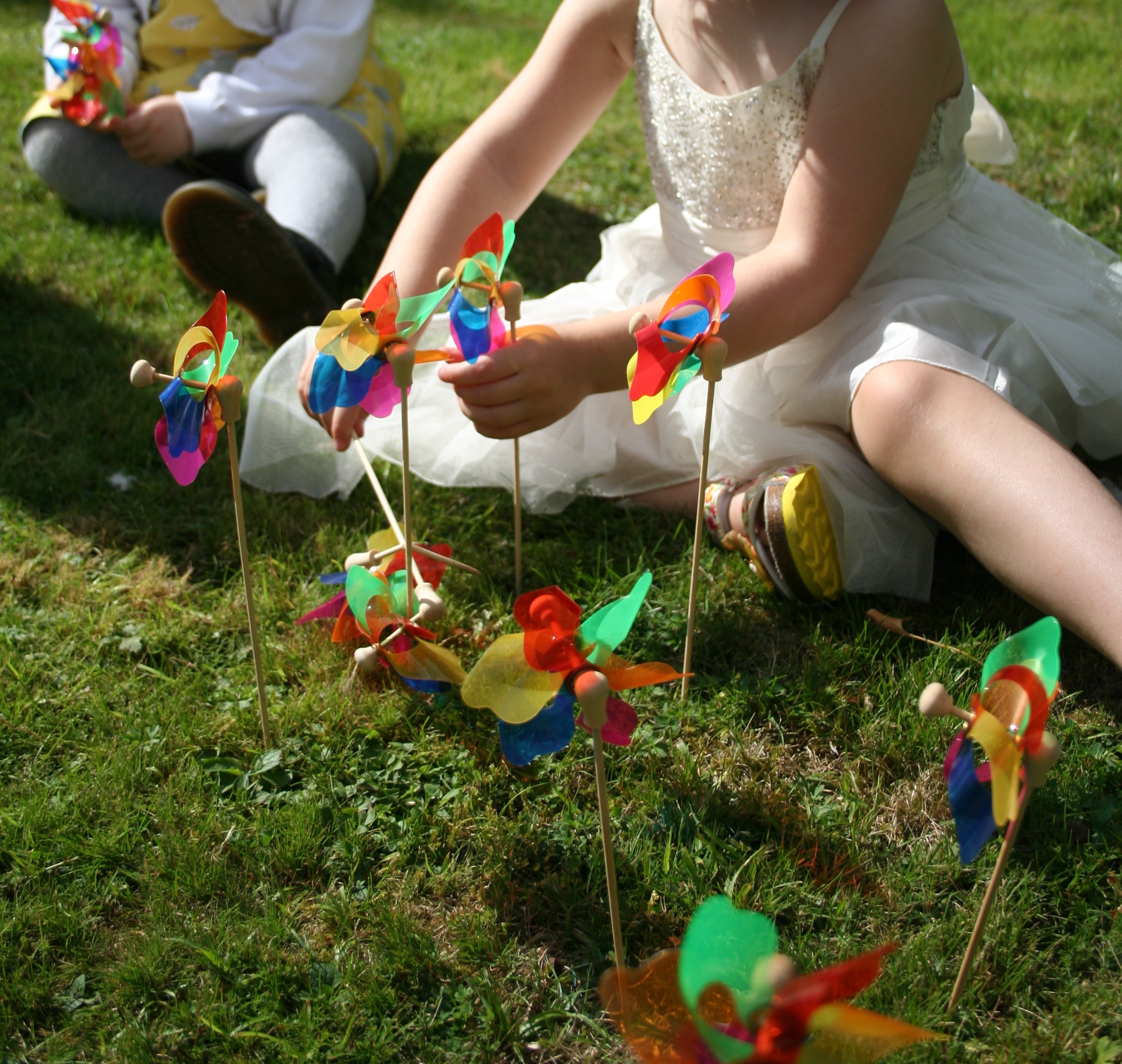 3. Don't forget birthdays! 
One memorable, touching moment was when one of the young members of our family was surprised in the middle of the speeches and open mic by her dad, who was bearing a birthday cake, while her extended family and a hundred odd people sang her Happy Birthday.
4. Have awesome relatives
My brother included a gigantic teddy in his speech – which was a big hit with the children afterwards.
5. Include child-friendly food
Food can be a big event in a child's day.  As well as catering to specific dietary requirements, our venue were great at making sure there were staple foods for younger children on offer in the buffet, such as sausage rolls, cheddar cheese, fresh fruit and bread.  We decided to order the tables by number of children (and vegetarians), so that there was plenty of choice of simple foods, and less potential for stress, for the younger ones.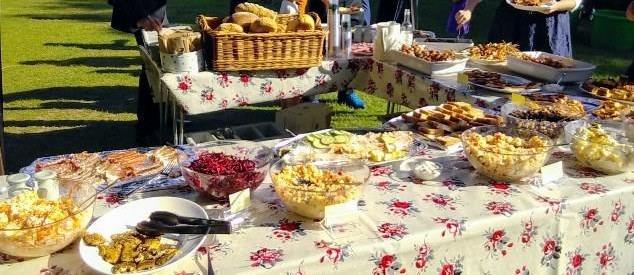 6. Make sure there's a range 
As favours, we did stickers for the under 3s, Top Trumps for primary school kids and normal packs of cards for the preteens and teens.  While the under 3s and younger primary school children loved their favours, the older children weren't too fussed – however, they did enjoy the props left in jars on their tables, and had a lot of fun with everything else that was on offer to them.  Really, what mattered was showing them that they each mattered to us – like every guest at the wedding.