Of all the makes for the wedding, this is the one I had to practise the most before finding something I was happy with.  The initial attempts included glitter foam and pyschedelic, pink and orange rosebuds – they ended up on our flower girl baskets.
Finally, after quite a few glue gun blisters and times spent lying on the carpet in a world of self-doubt, I made these.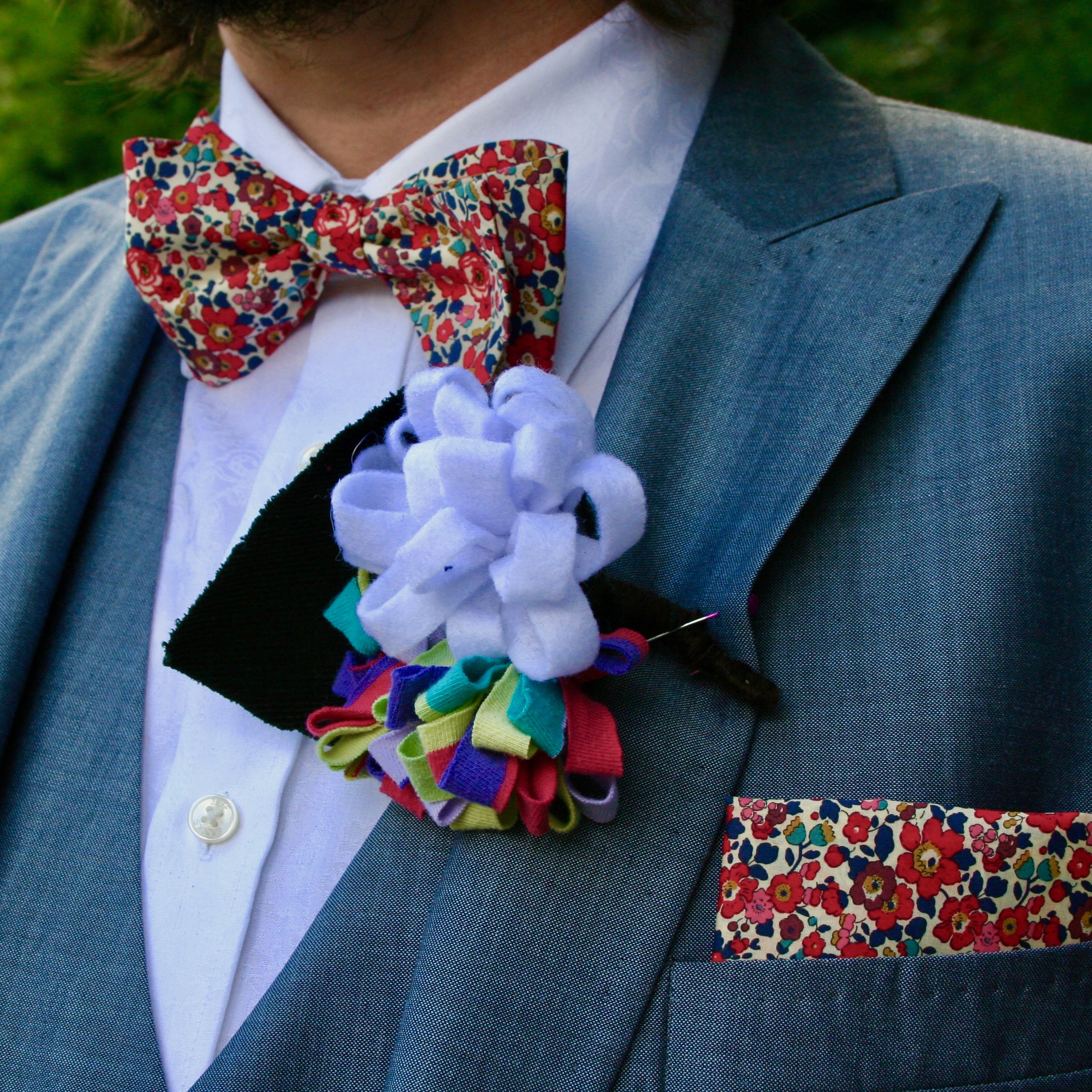 Bow Tie and Kerchief from Le Colonel Moutarde
I made these buttonholes based on a tutorial in 'Handmade Weddings' by Moyle, Moyle and Faust (Chronicle Books), which was kindly handed down to me by the teacher of one of my preschooler's activities.  Mine are a more-rustic adaptation.
Here's a How To…
Materials:
Old clothes (my daughters' outgrown winter dress and summer dress, in rainbow colours)
White felt, leftover from a craft project
Florist wire (also used for the bouquets)
A second-hand pair of dark green corduroy trousers
Wool (leftover from pom pom making)
Glue gun and glue sticks
Pins with rainbow heads (ebay)
Scissors
Method: 
Cut strips out of the old clothes and felt, measuring approx. 3″ (7.5cm) wide and about 5-6″ (12-15cm) long.
Fold them in half, lengthways.
Cut into the fold, stopping about 1/4 inch from the edge of the fabric. Make these cuts all the way along the length, with about 1/8 inch between each. This will create a fringe effect.*
Pipe a line of hot glue along the uncut edge, then roll the uncut length up tightly, having shifted the tips of the fringe to a slight angle away from the direction you're rolling in (the angle isn't essential, but creates a nicer shape if you are able to do it).*
Fluff up the bud.
Glue in a piece of florist wire.
Cut a leaf shape out of your chosen green fabric.
Put two buds together, and fold the base of the leaf around them, sealing (inside) with hot glue.
Double up the florist wire to make a more substantial 'stem' and wrap this loop with either brown or green wool.
Et voila! Les boutonnieres!
* High Tech Paper demonstration of 3 and 4:
A link to Handmade Weddings