Months before my wedding, I was playing with my kids in a local woodland when my phone rang.  It was one of my best friends, and bridesmaid.  Noone ever uses phones any more, do they? And I knew she was in her family home country.  I picked up, concerned.  What happened next reminded me of the time my mum, then in the early days of cancer, rang me at work – Mum had an urgent question about a black catsuit (this black catsuit, to match her own…).  My lovely friend had found hundreds upon hundred of doilies, hand crocheted by her great grandmother, along with ribbons and collars of lacework.  
Sharing love-driven, crafted, storied objects was very much something my husband and I wanted to do as part of our wedding.  We marry into a family, into a community, into a history of human love.  My friend and I had a few thoughts about what to make her great grandmother's doilies into.  One idea was bunting.  Another was to push the bulbs of fairy lights through their centres, so they looked like flowers.  In the end, we decided to dye them the colours of the rainbow, and use them to decorate the large, round tables and picnic tables that we were having our wedding breakfast on, in the gardens.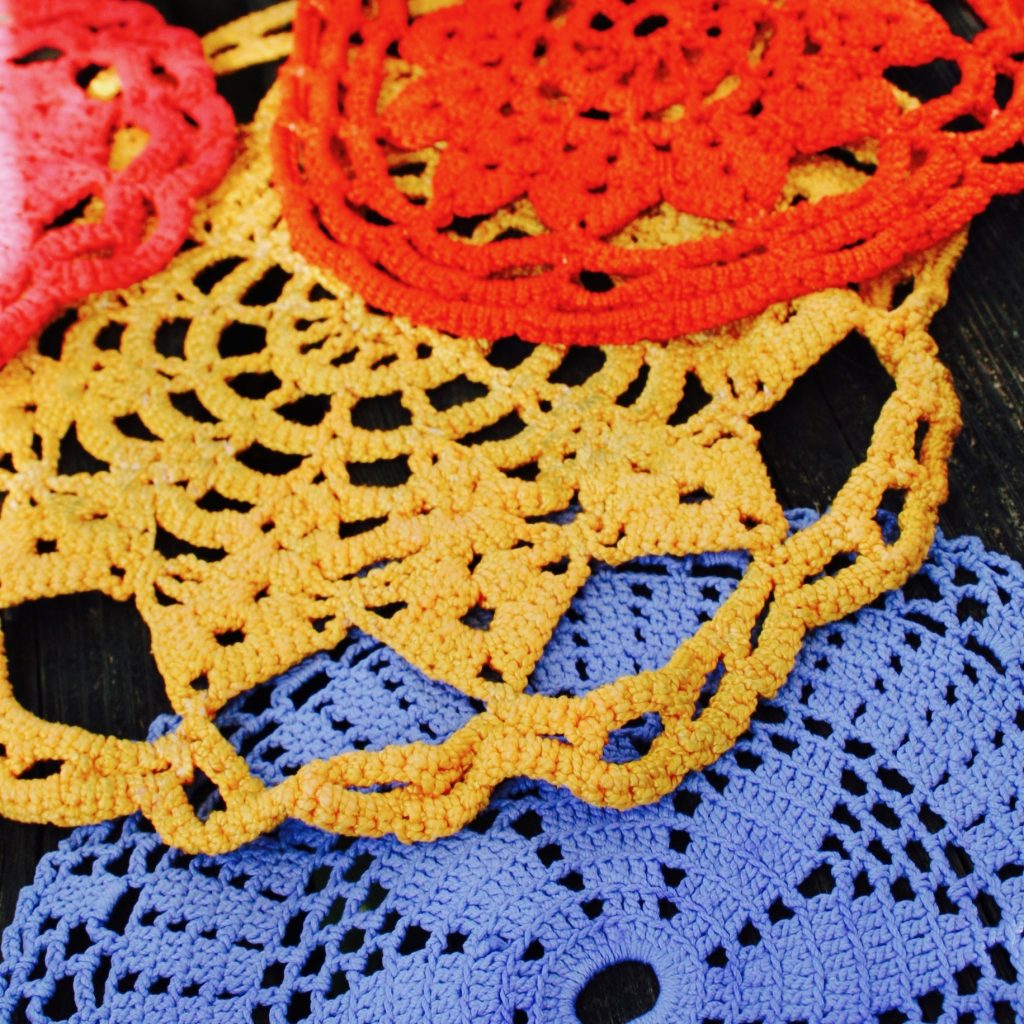 We used Dylon polyester dye, seven huge buckets (which we each needed for our gardens afterwards), a bottle of rose and a Sunday afternoon, to make this glorious rainbow…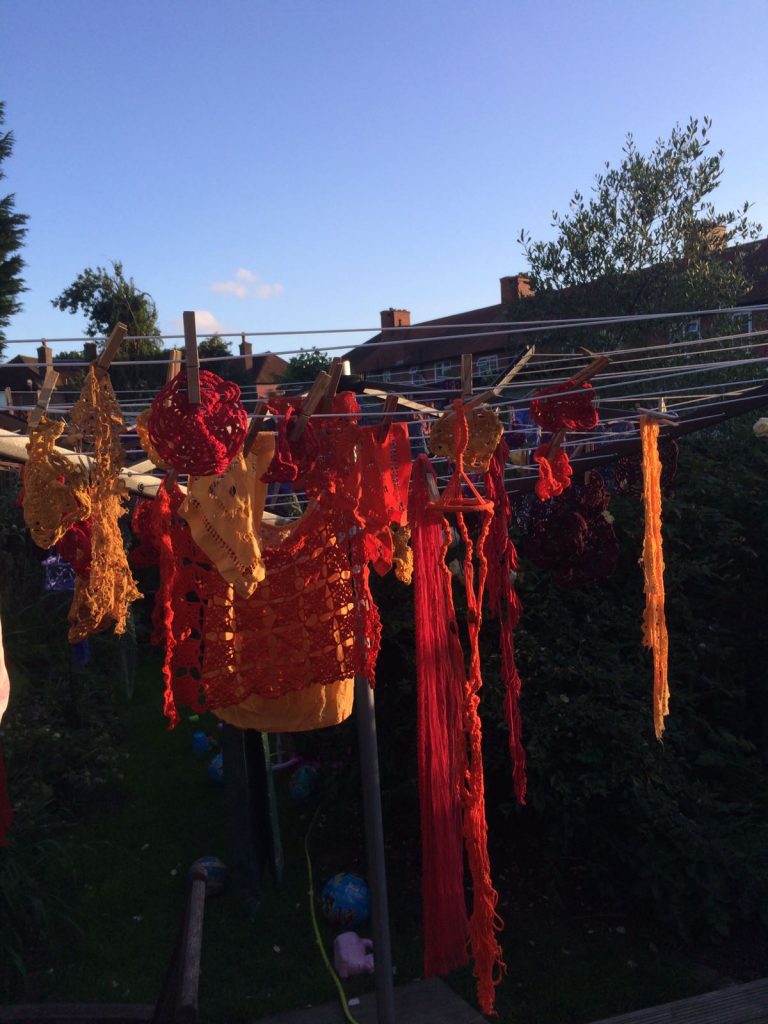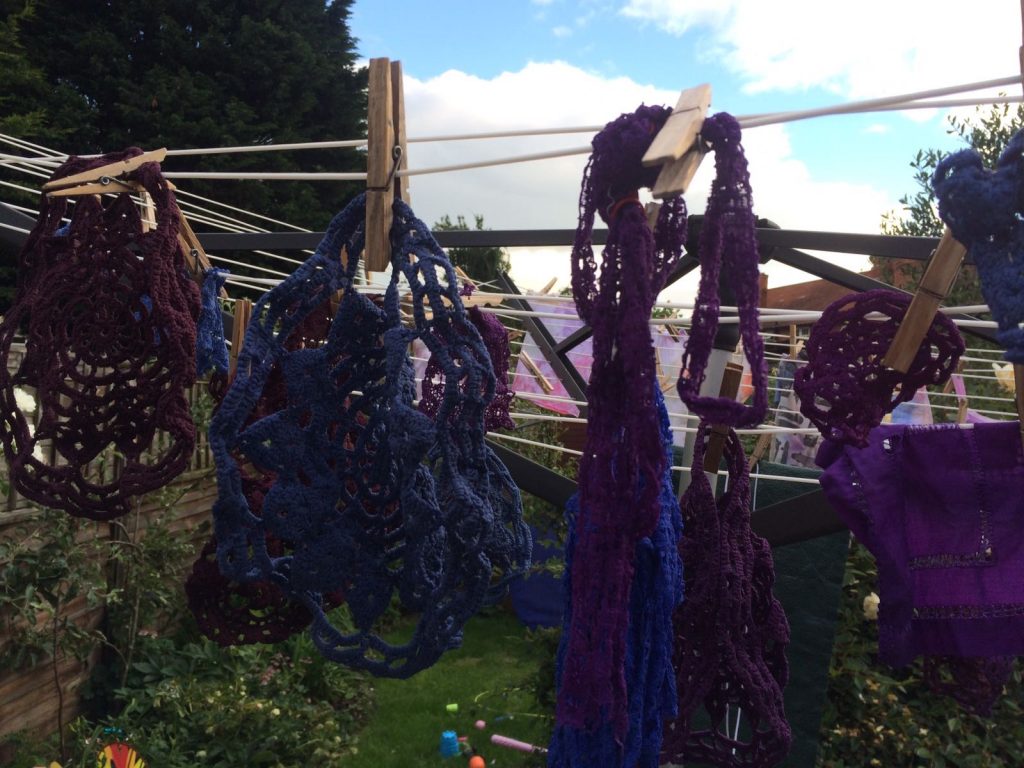 In the year and a bit between getting engaged and getting married, my family and several kind friends saved jars.  We stored ours in the garden, in crates, which meant that the weather did a lot of the work of removing labels for us.  These went onto tables, with candles, as well as reusable straws, pencils and colouring sheets for younger children, or wood and paper photo props for older children and teens.  The different shapes and qualities of glass caught the sunlight beautifully.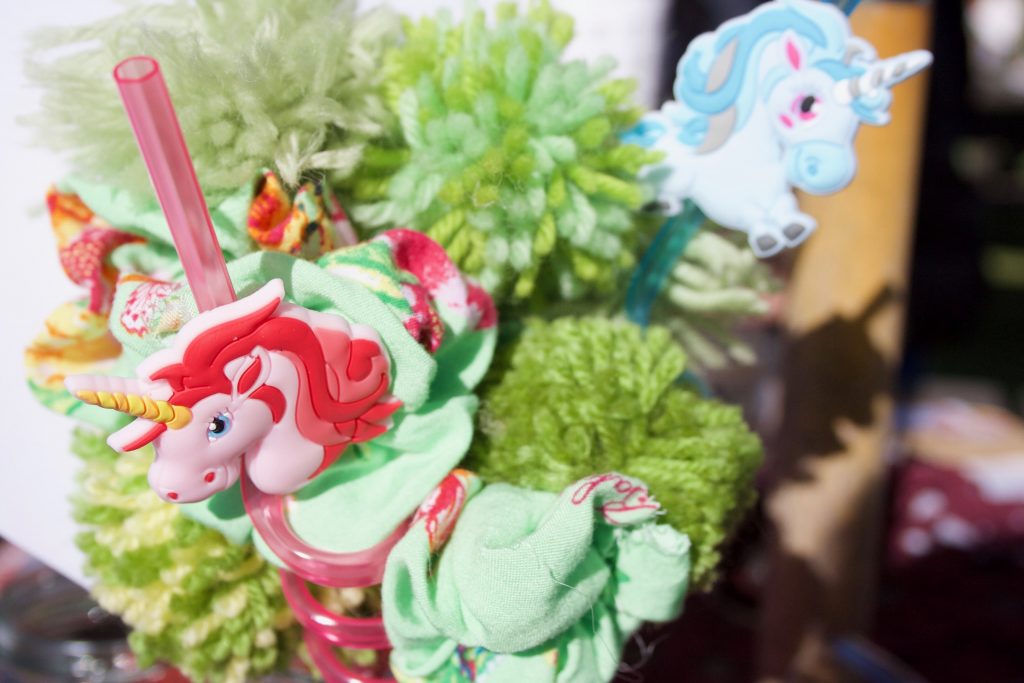 We put the differently-coloured bouquets of fabric wedding flowers in glass jars when back from the ceremony (here's how I made the fabric flowers) and made additional pom pom bouquets (here's a super easy pom pom tutorial).
Favours also served as name cards.  Small children had envelopes with their names on, with stickers and card inside.  Older children and teens had second-hand card games, again in envelopes with their names on.  Friends whose beliefs reject gambling had delicious jam.  For everyone else, we chose Lottery Scratchcards, as they are potentially fun, recyclable and contribute to charity.  It would have been amazing if someone had won their train fare.  The only regret I have is that I bought some brown envelopes with gold, glittery insides, to signify pots of gold (at the end of a rainbow).  I overlooked that this would leave the envelopes unrecyclable.  Moreover, we have since learned about the damage that glitter does to the environment, and are moving away from using conventional glitter and are planning to make our own from salt or sugar (like this) or buy biodegradable for special projects, like this Etsy product I am planning on trying soon (Etsy biodegradable glitter). Any glitter we still have will be for keep-forever crafts, like Christmas ornaments.  We are also a lot more aware about creating the demand for plastic, and perhaps would rethink buying plastic reusable straws, and go for something like stainless steel ones. I would love to hear more ideas for sustainable / zero waste alternatives to what we did, in the comments.
Instead of a guest book, we asked guests to bring photos, pictures, poems, lyrics or anything that showed 'family' and 'love' to them, and add it to our bunting (twine, with little wooden pegs).  We also printed off photos of us with everyone at the wedding, and pegged this up to get the bunting started.  It was gorgeous, and deeply personal, as well as being a great conversation maker, and we will keep the beautiful things our loved ones shared on it, forever.